Virtual Vittles


Introducing fresh, natural wholesome recipes created for finer palates
without excessive fat. Sounds to good to be true, however, posted
every week will be recipes with moderate to little fat.
No expensive "gourmet foods" or "special skills"
are needed to prepare any of these
homemade, authentic dishes.
Serve these recipes with rice, pasta, bread or baked potato
along with a salad and a vegetable for an amazingly
filling meal. Make sure you use lowfat dressings
and alternates for butter and oil. It is also
important to watch how much you
eat as well as what you eat!
Hope you enjoy!

Modified May 22, 1999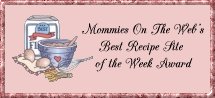 Keep in touch.


Copyright © 1996-1999 - M.Murabito. All rights reserved. All graphics © by their respective owners.